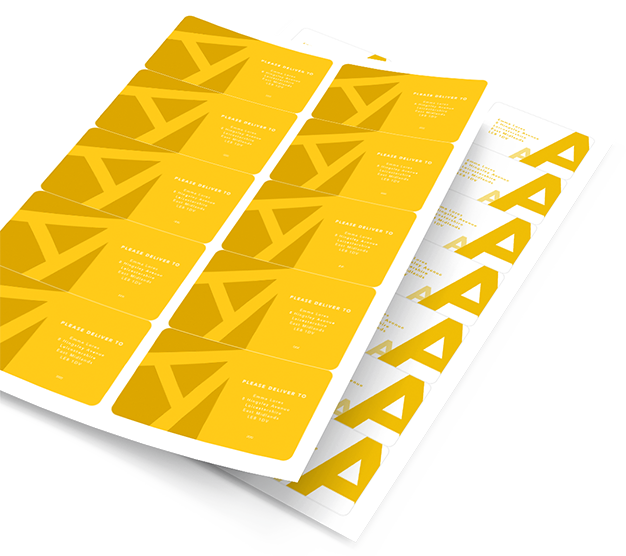 Label Printing & Adjustment
To get the most out of your integrated labels you will want to make sure they print smoothly and correctly – no stuck pages here. You also want everything looking as best they can so this is where print and paper alignment becomes very important. We will take you through our top 5 tips to get the best out of your label printing.
Loading Return Label Sheets
The trick here is not to over or under fill. Take between 100 and 200 sheets and put them in your printing tray with no over print stock present. Before you put the sheets in we would suggest to first fan them out to ensure none are stuck together. Finally, tap them on a hard surface to make sure all sheets are square and aligned.
Inserting Integrated Label Sheets
You might think it doesn't matter which way your paper sheets go round, however it will make a big difference on some printers. Wherever possible, you should put your sheets in with the blank end first and the end with the label closest to you. This should help eliminate paper jams.
If you need to, you should be able to rotate the printer output by 180° in the printer settings.
Printer Paper Settings
Whilst you are technically printing on to paper, remember that your integrated labels are thicker than standard paper. As such adjust your paper type in the print settings to labels (or card if you don't have this option). This will help get the best results and reduce printer paper jams.
Label Alignment – Margins & Adjustments
All of our integrated delivery labels have been designed to fit the major e-commerce / delivery platforms and should work straight away – however it is not always the case. If you are finding your labels are not quite correct and look off the best place to start in printer margins.
You may find these in your printer settings, web browser or the label app – it depends what type of system you are using, but they will be there somewhere.
If you find your alignment is constantly off, try finding page scaling or fit to page is not turned on. This will alter the zoom and put out your prints.
Storage & Usage
You need to remember that the environment in which you store your labels will impact the quality. Cold and damp conditions may alter the paper, label and stickiness so it is always best to try and keep them near your printer and somewhere warm and dry.