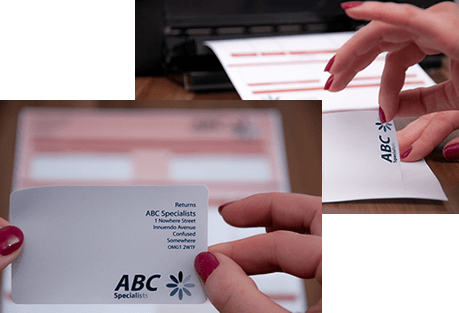 Any Design, Any Size: Truly Bespoke Integrated Labels
Whilst we offer an extensive range of quality integrated labels ideal for the vast majority of businesses, at PickItPackIt we do also understand that sometimes our customers want something truly unique. Which is why we're proud to offer Bespoke Integrated Label Sheets with any amount of labels, of any size and in any position.
Through our Bespoke Label Service, we can produce an integrated label tailored to suit any requirement you and your business may have.
Whether it's simply adding logos or customising the shape, number and size of the integrated label itself, at PickItPackIt, we have over 30 years of experience in the printing industry to ensure your despatch forms function better for you.
Adding print to your despatch stationery is a proven tool to both effectively market your brand and also increase consumer confidence. In recent years, our cost effective pre-printing service has achieved a professional image for the likes of Disney and Liverpool Football Club.
With our Bespoke Integrated Label Sheets, our customers can;
– Add a colour logo to increase brand awareness
– Add a returns label and increase customer confidence
– Cross sell additional products or services
– Add terms and conditions or returns instructions
– Add a postage paid impression and streamline despatch
Find out more about our Bespoke Integrated Labels Service or Contact Us for more information.