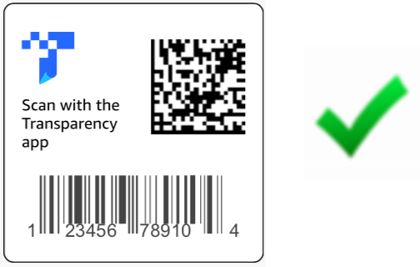 Transparency is a new product serialisation service from Amazon Brand Services, designed to identify individual units and build consumer trust by preventing counterfeit products from reaching customers.
Each transparency code is unique, alphanumeric, non-sequential codes printed as a small barcode on a product's packaging. Transparency maintains a secure database of these codes and can verify the authenticity of any product enrolled in the system by simply scanning the barcode. While the system is provided by Amazon Brand Services, it works for products sold on any platform. This means that counterfeit products can easily be spotted and prevented from reaching customers, no matter where they might be buying your products from.
As a new product, Pickit Packit are helping support a number of UK customers in designing and printing their Amazon Transparency Labels.

Getting Started with Amazon Transparency
Start by enrolling your products in the Transparency system by visiting https://brandservices.amazon.com/transparency. Please note that you will need to be able to prove that you are the brand owner of your products and provide a Global Trade Item Number (GTIN), UPC or EAN barcode.
Transparency will then issue you with a unique code for each product you have enrolled. Send the codes to us, along with any other branding and information you would like on each label and we will print all the information before shipping your finished labels back to you.
When your labels arrive, simply apply them to the product packaging, ready for shipping. If your products are sold and fulfilled on Amazon, they will be automatically scanned when the order is fulfilled, and only authentic products with the correct Transparency labels will be shipped.
When your products arrive at their final destination, customers can scan the Transparency label themselves using their iOS/Android app to verify product authenticity and view rich unit-level product information such as manufacturing date, manufacturing place and any other product information you choose to share.
If you are already using Fulfillment with Amazon, any FBA products registered under the Transparency Program will not be accepted at Amazon's warehouses without a valid Transparency label, this will prevent other sellers from attempting to send unauthorised products to Amazon.
With big brands such as Samsung, Seiko, Russell Hobbs and Black + Decker already leveraging this technology to protect their customers and improve consumer confidence, there's no reason you shouldn't take advantage of the service too.
For more information about label printing and to get a quote for your Amazon Transparency labels, give us a call on 01502 539004 or email sales@pickitpackit.co.uk.